DIY eyeliner makeup can give you a fresh and unique look. While nothing beats the intensity of black eyeliners, colored and bright ones can add some extra drama and definition to your eyes. These vibrant colors also help you keep pace with the ever-changing beauty trends. But it is not always possible to own every shade of eyeliner or kajal available in the market. That is why we are here with a brand new makeup tutorial. It is time to accumulate all your discarded highly pigmented eyeshadows to make new eyeliner colors. Swipe up to learn how and have your Eureka moment!
Keep In Mind
Alternatives To Mixing Mediums: Alternatives To Mixing Mediums You can also use a setting spray or eye drops as a mixing medium for your DIY eyeliner.
Angled Brush Is The Key: Alternatives To Mixing Mediums An angled brush will help you mix your ingredients and apply your eyeliner smoothly.
Clean Your Brushes: Alternatives To Mixing Mediums Avoid unwanted color transfer to get the desired eyeliner shade by keeping your brushes clean.
Avoid: Alternatives To Mixing Mediums Opening your eyes seconds after application as the eyeliner may smudge and transfer.
Required Things For This DIY: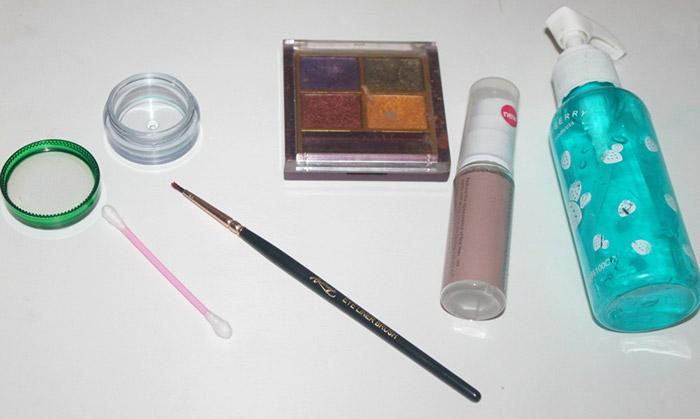 Here is a list of things you'll need to make this eyeliner:
A small empty container to store the product
Loose pigment or eyeshadow in any color
Water
Eye liner brush
Primer
Cotton swab
How To Make Eye Liner With Eye Shadow:
Follow the steps to make your very own eyeliner with eyeshadow:
Step 1: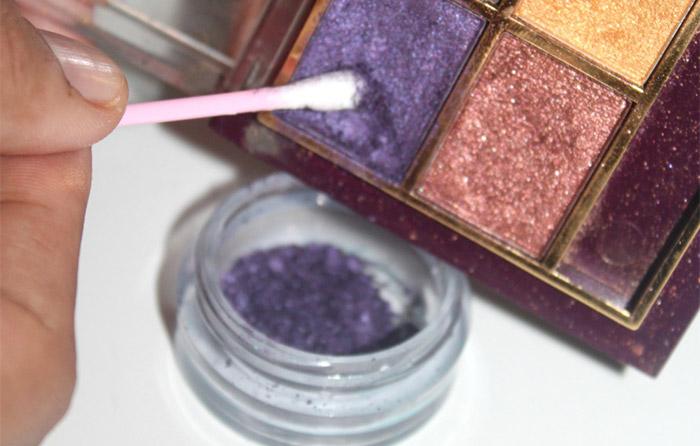 Wash your hands to sanitize them. Then, take the eyeshadow of your choice. It has to be in powder form. Check the expiry date of the products before making the eyeliner. If you wish to make shimmery or satiny eyeliner, go for powder eye shadows, which contain shimmer or glitter particles. . If you want a matte finish for your eyeliner, then go for powder eyeshadows in a matte finish. You could also use a powder blush, highlight powder, or any loose pigment for making a powder eyeliner. Here, I have used my favorite purple eyeshadow from the Lakme eye shadow palette in Tanjore Rush to make the eyeliner.
Start by scrapping the eye shadow gently with a clean cotton swab, and transfer the loose powder into a small container. As my eyeshadow was already broken, I just used a blunt knife to push it into the container. The container has to be clean and sanitized before use to avoid bacterial infections. It is simple to sanitize the container. Wash it with a detergent liquid soap or use a rubbing alcohol spray and wipe off the container. I used an old lip balm container to store my eyeliner. If you are trying to make the eyeliner for the first time, make sure you use only small amounts of the eyeshadow products to avoid any wastage. The amount of eyeshadow to be taken for making the eyeliner depends on how much you would require.
Related: How To Apply Eyeliner Perfectly
Step 2: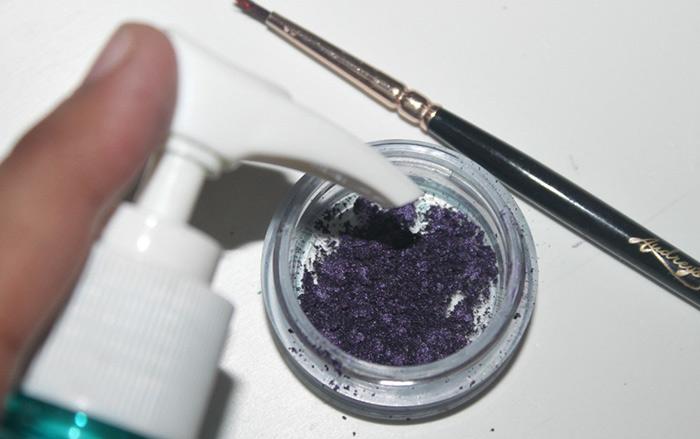 Now, add a few drops of water to the powder eye shadow for creating a liquid-like consistency. If you have refreshing eye drops, you can also use it instead of water to make the eyeliner.
Quick Tip
Ensure you don't overdo the use of eye drops as the active ingredient in it is a drug. It is best not to put too much of it on the skin.
Related: 8 Effective Makeup Tips To Make Your Eyeshadow Look Brighter
You can also use a mixing medium to turn your powder eye shadow into eyeliner. Award-winning makeup artist Rachel Duncan says, "It's a PRO makeup artist's favorite! Instead of buying liquid liners in different colors, you can use the shadow palettes you already have with a few drops of mixing medium, and BOOM, a creamy liquid liner that dries down beautifully!"
Step 3: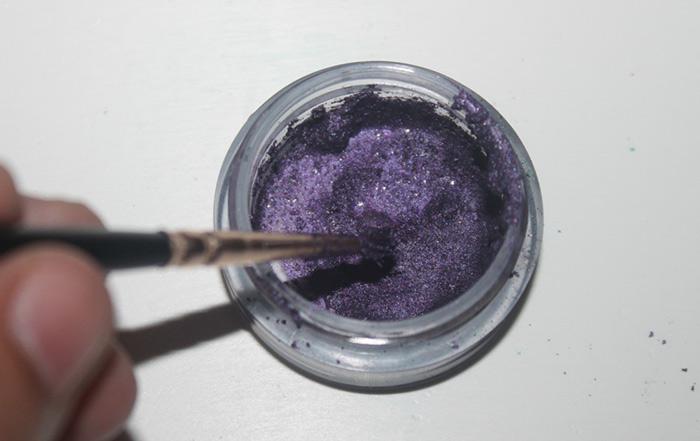 Use a pointed thin eyeliner brush and mix the powder well to form a thin liquid liner consistency. Start by adding a few drops of water to avoid a runny consistency. Mix the powder eye shadow with the water for a good 2 minutes to avoid any lumps in the product, and check for fine consistency.
Step 4: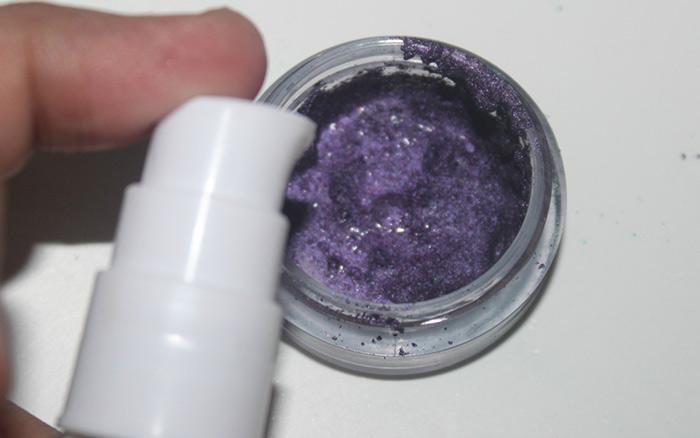 Now, add a small amount of eye primer or a face primer to this mixture. This step is optional, but it is recommended as this will increase the longevity of the eyeliner. It will also avoid any creasing or budging of the product.
Quick Tip
You may also add setting spray to this as it will help improve the longevity of the product and creates a budge-proof film.
Related: What Is A Makeup Primer? How To Apply It?
Step 5: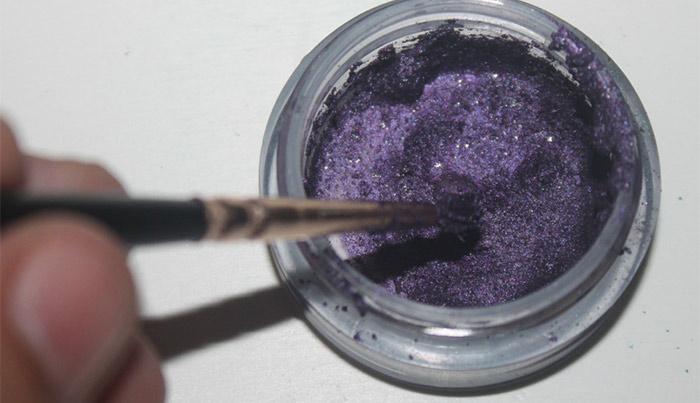 Mix the contents again for half a minute till the primer gets dissolved and mixed with the eyeliner completely. Close the cap of the container tightly, and store it for future application. This eyeliner will last for a long time. This will also not dry or decrease in quality even after several days of storage.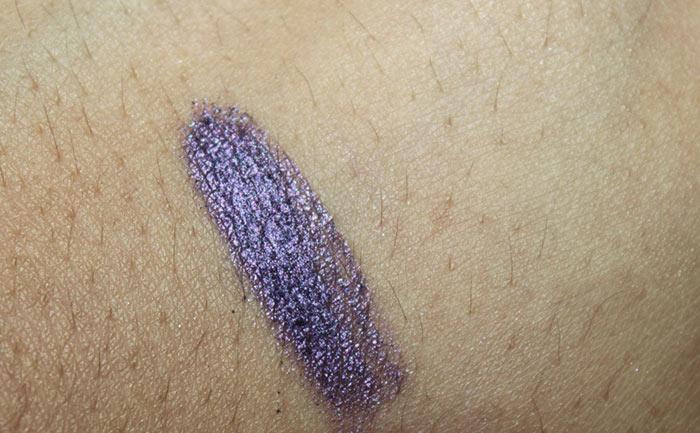 This eyeliner worked well and lasted for a good 4 hours on me as I had added the primer. The expiry of this eyeliner will be the same as the expiry of the eyeshadow.
Infographic: Simple Steps To Make Eyeliner From Eyeshadow
Eyeliners and eyeshadows are the most important part of your eye makeup. So, knowing how to make eyeliner from eyeshadow will help you add some extra magic to your eye makeup. We have focused on the main steps of making a long-lasting eyeliner from eyeshadow in a simple and efficient way. Check out the infographic below to know more tips and tricks!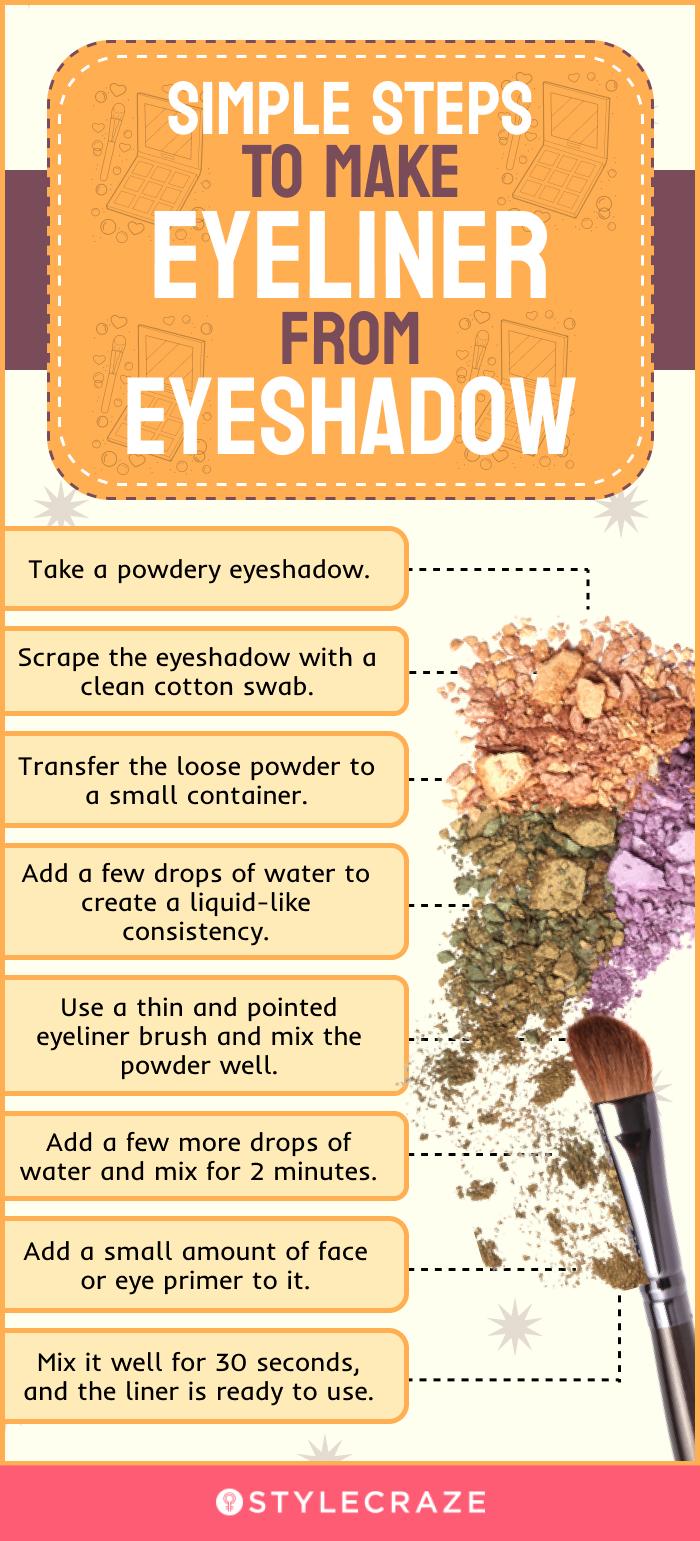 Once you have mastered the process of DIY eyeliner makeup, you are set with almost unlimited shades of liners. Old, powdery eyeshadows (not expired) in colors of your choice, water, primer (optional but recommended), eyeshadow pencil, and a cosmetics container are all you need to make your eyeliner in less than five minutes. You need to mix everything thoroughly, and voila, you have a brand new eyeliner to enhance your eyes. These DIY liners can last for around 4-5 hours without smudging or fading, especially if you have added a few drops of primer to the liner solution. In addition, the liner stores well and does not dry out, and only expires when the eyeshadow used to make it reaches its expiry date.
Frequently Asked Questions
What ingredients make an eyeliner?
Activated charcoal, waxes, lanolin, and castor oil are all commonly found in an eyeliner.
Can you make your own liquid eyeliner?
Yes. All you need is activated charcoal for the pigment, beeswax for a thick consistency, and coconut oil and water for fluidity.
Can mascara be used as eyeliner?
Yes. Just make sure the consistency is correct and use a clean brush to avoid clumps.
How do you make Vaseline eyeliner?
You can mix approximately 3 parts of eyeshadow of your desired color and 1 part of Vaseline to make your own gel-based eyeliner.
Can henna be used as eyeliner?
Yes. However, be careful while applying henna as a natural eyeliner as it is semi-permanent and not smudge-proof and may stain if smudged.
Key Takeaways
Choose the eye shadow hue you want to use as your eyeliner. You can also experiment and combine various tints.
Scoop a little eye makeup into your palette or container. A little goes a long way, so you only need a modest quantity.
Blend the eyeshadow with a few drops of water to get a smooth base with a thick consistency.
You may also add primer to avoid creasing or budging and for the longevity of the eyeliner.
Mix the materials and let the primer blend with the eyeliner.
Learn how to quickly convert any eyeshadow into eyeliner with this easy tutorial video! Get the perfect look in no time with this simple guide.
The post DIY – 5 Easy Steps To Make Eye Liner From Your Eye Shadow if you like this post then share this post with your friends and family