How often has it been that while trying to contour and blush your cheeks, you ended up with red, slapped-looking cheeks? Contouring is all about using the right mix of shades, in the right areas for an enhancing and highlighting effect that adds flawless shape, definition and symmetry to your face. We have shared some cool and perfect cheekbone contouring tips and hacks. These beauty tips are easy to follow and suitable for beginners. Scroll down to check them out.
Keep In Mind
Face Shape Contouring: Square – four corners of the face; oblong – forehead and chin; heart – corner of forehead and jawline; triangular – only jawline; round – temples, cheekbones, and sides of jawline; oval – under cheekbones.
Face Shape Highlighting: Square, heart and round- forehead and chin; triangular and oval- under the eyes, forehead, and chin.
Skin Tone: Fair to medium – Neutral to taupe contour shades; olive and tan – deep golden shades; dark – warm and deep chestnut brown shades.
Brush: Use a fluffy brush for diffused and soft contours, and a small dense brush for a sculpted contour look.
How To Contour Cheekbones
Here, we give you five simple steps to be followed by everyone, from beginners in the cheekbone contouring island to the experts.
You Will Need:
Foundation
Brushes
Bronzer/Contour Powder
Blush
Highlighter
Related: How To Apply Foundation Like A Pro – A Step-By-Step Tutorial
Step 1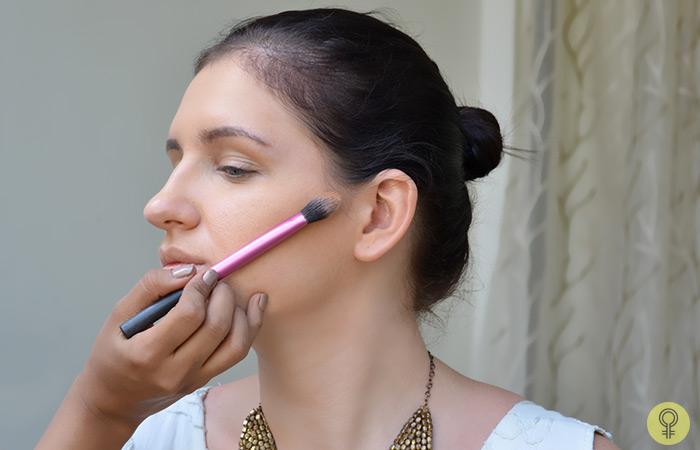 First, you need to know where to contour your cheeks.
The best way to find that out is to suck your cheeks in. This will help you know where the hollows of your cheeks are. Tilt the brush at a 45-degree angle and place it on your cheekbone (just like shown in the picture).
You can also suck your cheeks in and locate your cheek bone by feeling it with your index finger.
Step 2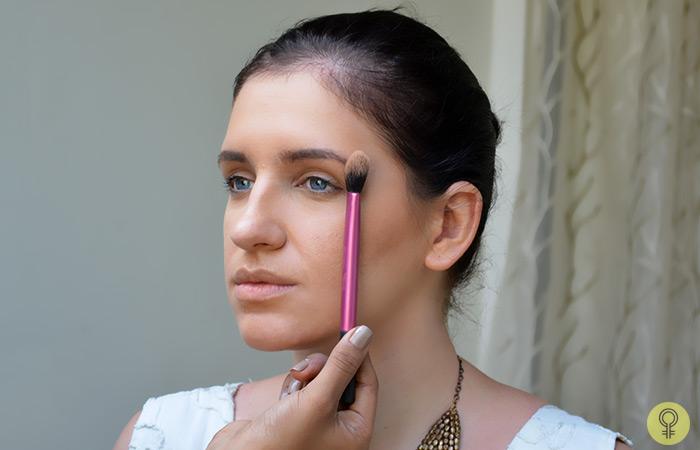 Placing it right is the key to a perfect contour technique.
Another way to know where to contour is to place the brush vertically exactly where your eyebrows end. That's where your contour shading should ideally end.
Related: Different Types Of Hairlines For Men And Women
Step 3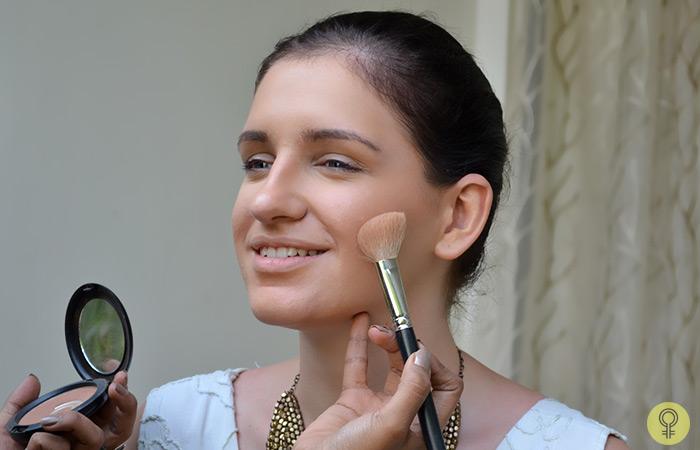 Take an angled contour brush and load it with a contour powder or a bronzer that is two to three shades darker than your skin tone.
Place it at the point just below your hairline, or the point where the tip of your index finger was touching.
Swipe down to less than half the length of your cheekbones.
Use less pressure on the brush as you swipe down because you don't want the contoured shadows to cross your cheekbone area.
Related: How To Apply Blush On A Round Face?
Quick Tip
You can also apply concealer before the bronzer to get the perfect cheekbone contouring. Apply a lighter shade near the cheekbones and a darker shade underneath and blend.
Step 4
Take a blush that suits your skin tone, or you can choose shades in pinks, browns, mauve, or bronze. Use a fluffy powder brush to apply it and blend as shown in the picture.
Pat the brush slightly and blend the blush and bronzer. This will ensure that the makeup doesn't end up looking patchy and uneven.
Step 5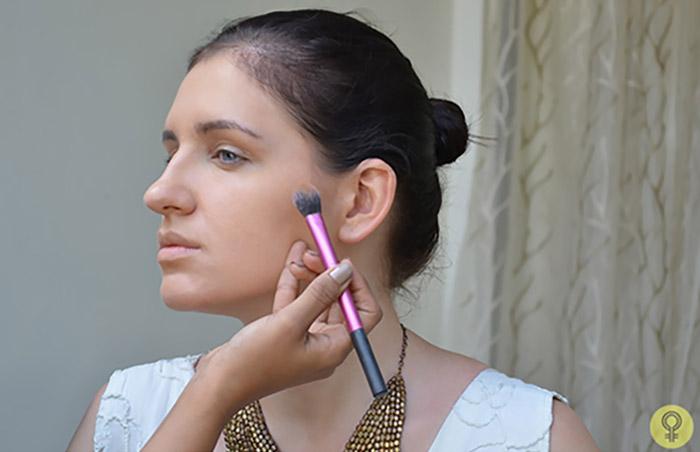 Contouring and highlighting complement each other.
Choose a cream base highlighter according to your skin tone and apply it with a small fluffy brush.
Apply it just above your cheekbones, the area where you have contoured (half an inch from your hairline).
You can also use a shimmer blush in peach or brown tones for this, in case you do not have a highlighter.
People who do not have prominent and subsidized cheek bones can use a shimmer blush or powder highlighter, and apply it with a blush brush on the apples of the cheek in a sweeping motion.
Fun Fact
The cheek contour filter recently went viral on TikTok. It is claimed to help you measure the proportions and help you ace the perfect cheekbone contouring.
Final Look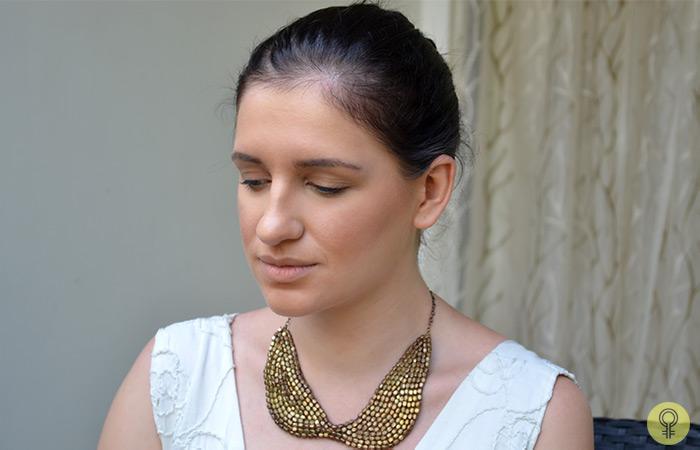 This method, if followed rightly, should give you naturally contoured and elevated cheek bones and the perfect shadow effect.
If you are looking for strong contours, darken by swiping the angled brush with a bronzer or a deeper shade of foundation/concealer.
And if you feel the contour has gone too dark, you can reduce it by using translucent powder over the contoured area. This reduces the intensity of the shade.
The best way to understand whether your contouring is done right is to always look straight at the mirror. The shadow created by your contour will be visible on your reflection in the mirror.
Contouring the right way gives your face shape a proper frame and a chiseled look. And now that you know how to contour cheekbones, you can stop yourself from holding back and turn your contouring game on. Don't worry if it is not perfect in your first attempt. Contouring needs practice and precision. So keep trying till you succeed. Let this article serve as your ultimate guide.
Frequently Asked Questions
Do you contour under your cheekbone?
Apply a dark matte contour shade under your cheekbone. Use a soft-angled brush or a flat edge sponge for proper blending.
Do you set your face before or after contour?
Apply the setting powder after contouring as it helps set the contour. However, if you are using a pressed powder, apply it before contouring.
What's the difference between bronzer and contour?
The main difference between a bronzer and contouring is the effect they add to your appearance. A bronzer adds warmth to the face while contour adds shadow and dimension to change or enhance your nose, cheekbones, and jawline.
Is it better to contour with cream or powder?
It depends on how you want to have the complete makeup look for any particular event. Creamy texture provides dewy natural finish while powdery texture gives matte finish. A cream contour is better for dry or normal skin, while a powder product is ideal for oily skin.
Key Takeaways
Suck your cheeks and locate the cheekbone to get the exact location of placing the contour.
Find the point to end the contouring by locating it straight beneath the eyebrow end.
Apply the contour powder or bronzer gently along the cheekbone.
Use a powder brush to blend the blush with the bronzer.
Use a cream base highlighter or a shimmer blush to highlight the contour.
Elevate your contour game with this quick tip video! Learn two distinct techniques to flawlessly contour your cheeks, adding dimension and definition to your face in no time.
The post 5 Simple Steps To Perfect Cheekbone Contouring if you like this post then share this post with your friends and family