Do you remember this beauty from the movie, Transformers? Yes, we are talking about Megan Fox, who has appeared on many 'Sexiest' lists over the past few years and is popularly known to be one of the hottest women in America. Here we are going to take a peek into some of the photos of Megan Fox without makeup. She has great skin and looks stunning even without makeup. Celebrities not wearing makeup have become a norm in recent times, and they prefer facing the camera without makeup. Keep reading to check out some of the makeup-free pictures of Megan Fox. Scroll down.
Megan Fox Without Makeup Pictures
Following 15 Megan Fox No makeup pictures will definitely blow your mind.
1. Airport Fashion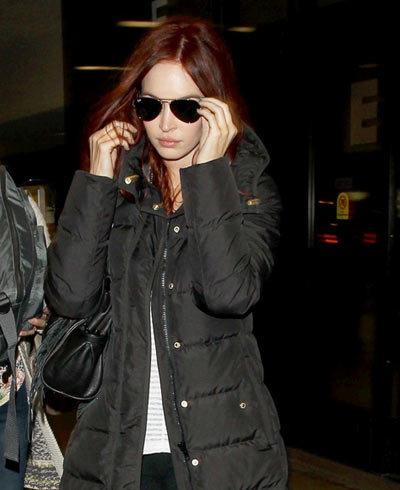 The Transformer actress was seen as she was making way through LAX airport along with her husband and baby boy Noah. Her hair is a bright burgundy shade, very unlike Megan, who has a naturally dark brown mane. She was dressed in a black puffer jacket with a white top underneath, and black pants. She was confidently sporting the no makeup look. She accessorized the look with only essentials such as her black shades and a hand bag.
Quick Tip
Shades are a go-to accessory if you want to sport no makeup and yet conceal puffy eyes or under-eye circles from a night of partying.
Related: Megan Fox's Makeup, Beauty And Fitness Secrets Revealed
2. Work Hard, Play Harder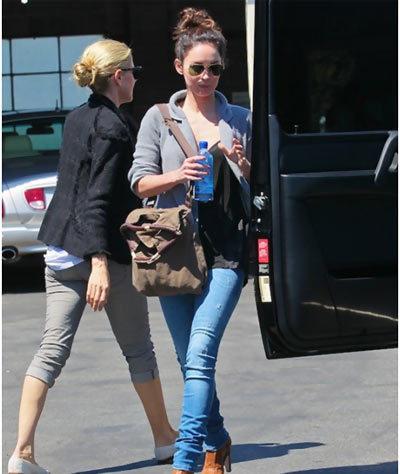 Her outfit in this one is the epitome of chic mixed with casual. This naturally beautiful woman looks absolutely stunning while sporting this look. Even without any makeup on, her skin is absolutely glowing. She has dressed casually in a gray jacket and blue denims, and her hair loosely tied up in a messy bun. Her boots are what brought this entire look together!
3. Luncheon Dates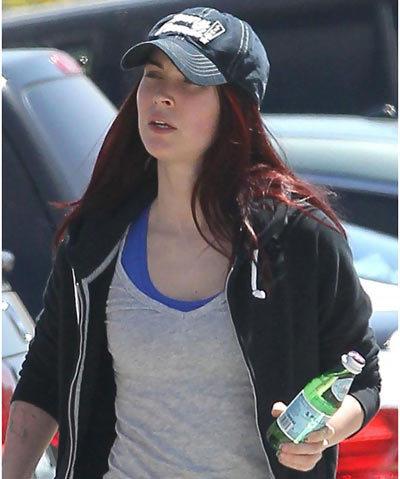 Looks like Megan is out to grab some grub along with her husband, Brian Austin Green. Who needs makeup when you're going to get lunch? Megan adopted a complete casual and no makeup look for this outing. She looked absolutely stunning and fresh.  She wore a black jacket over a gray T-shirt and paired it with black leggings. She completed the look by sporting her signature baseball cap and casual running shoes.
4. Wake Up And Makeup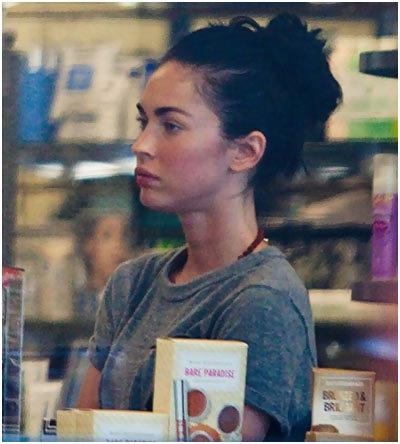 Taken in Los Angeles, Megan Fox is spotted buying cosmetics at Planet Beauty Supply in Studio City. She appeared at the cosmetic joint bare-faced, without a trace of makeup, and can I just point out how wonderful she looks? Wearing a gray top, black jeans, and boots, her hair was tied in a messy bun. This simple, fresh-faced look made heads turn!
5. Life As We Know It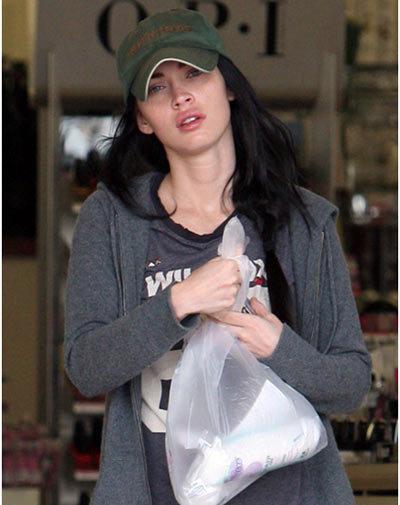 Glamorous Megan was spotted with her husband at a drugstore unadorned, without a stitch of makeup on. She was out and about running errands that any regular Joe would have been doing. She was seen in comfortable yoga pants, gray jacket over a loose T-shirt, and a baseball cap. How she manages to look so put together even in such simple clothing is way beyond my comprehension!
6. It's All About The Stripes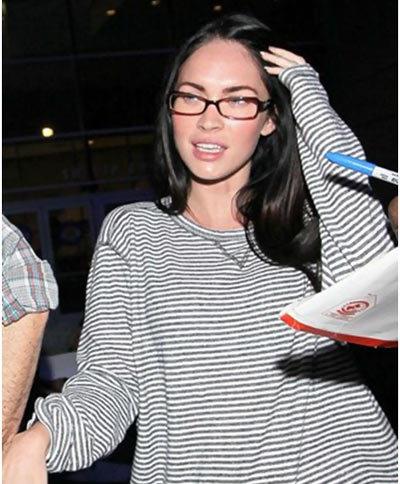 The best part about Megan in her no-makeup look is that she looks like someone you would see on a day-to-day basis, proving that she is in fact like any other person who deserves privacy. She is beautiful with or without it! Her simple clothes and no makeup look made her look quite like the girl-next-door. She is wearing a lovely casual striped top, which looks extremely soft, comfortable, and unembellished. It makes me want to seek out where she bought it, and maybe try it on myself! She is seen looking completely and has her glasses on. I can understand how wearing contacts all the time might be a pain.
Related: Top 25 Pictures Of Katrina Kaif Without Makeup
7. Business Casual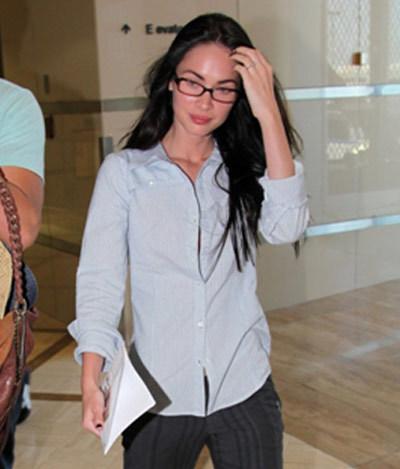 Megan was spotted with her husband at the Maui International Airport in Hawaii while passing through the security checkpoint in 2010. She is wearing a blue cotton button down shirt and black pants. Her skin looks healthy and flawless. Her look has been completed with the help of her trusty glasses.
Quick Tip
A no-makeup look does not mean that Megan Fox is not wearing sunscreen. She swears by sun protection and wears accessories such as shades and caps to shield her face against the sun and uses a sunscreen with 30 SPF everytime she steps out. She also gets an oxygen facial done once every week to maintain her skin health.
8. Fab Mom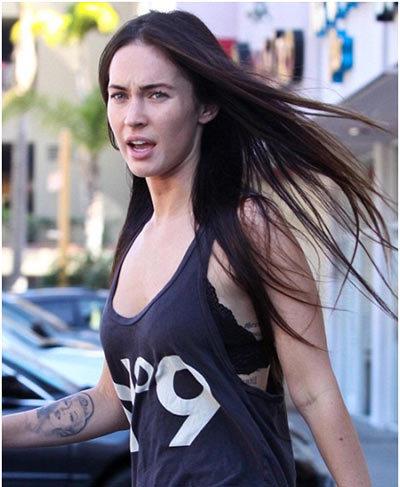 The sign of a true mother, she puts her kids before everything else and does not care about the consequences such as being snapped by the paparazzi with her bare face. She has nothing to hide! Megan was snapped without any makeup on when she was leaving her house along with her husband to pick her stepson Kassius up from his karate class. She wore a very loose tee and blue denim. Her makeup always seems to be stripped-down.
9. Busy As A Bee
Megan Fox seems to be in the middle of something important. She is seen looking super casual in this picture. Even when she's not dressed for the red carpet, she makes an impression. She is dressed in black jeans and a white top. She also threw on a brown parka, which indicates that it might have been cold at the time. The hair is tied up into a care-free bun.
10. Coffee Runs
I personally dig this look of Megan's, most probably because it's something very close to what I would deem as 'casual fashion'. Megan is getting some coffee and is wearing a gray top with ripped black jeans. She is also wearing a black leather jacket, which is the deal closer for this outfit. The glasses add to her personal charm and style. Plain, raw, yet fab looking!
11. Errands And Chores
Wearing a casual zebra print top and jeans, Megan probably went out to grab some coffee and run errands. Her hair has been made into a lazy loose braid, which is quite casual and chic at the same time. The cap was a nice accessory, and also helps her to keep away from any prying eyes and paparazzi. Megan truly shows everyone that you do not need to wear makeup all the time and are allowed to look unfiltered and unedited.
12. A Swim With The Wild
Megan looks extremely happy, especially with the dolphin next to her! Megan had the opportunity of understanding dolphins better through her involvement in the animal rights charity. She also starred in a documentary called Na Nai'a Legend of the Dolphins alongside notable actors like Kate Winslet, Whoopie Goldberg, and Gerard Butler.
13. Geek Mode:On
Megan appears to be taking a stroll with her husband and looks very comfortable. She is makeup-free and is wearing her glasses, which is a great look, if you ask me, because comfort is key! She is wearing a shirt that says 'Defender of the Universe', which is in reference to Voltron, an American animated television series, which is probably something she used to watch back when she was a child. Now we know why she was interested in the Transformers!
14. Going For A Run
Megan looks quite sporty, as though she is getting ready to go out for a jog and then run some errands. She is wearing what appears to be a black dry fit shirt and a sports watch, which is a great accessory while going for this kind of fitness fashion. Who says you can't look fabulous while working out?
Related: 7 Fabulous Megan Fox Tattoo Designs And Their Meanings
15. Every Day Is Casual Day
Yet again, we see Megan in super comfortable clothing. A gray top and black track pants say that she is probably busy. She might be trying to squeeze in some running in between all the other chores and work. Her hair is left open, and it looks extremely gorgeous that way!
We must agree that the pictures of Megan Fox without makeup must have caught you by surprise. She looks equally stunning in her bare face as she does on the screen. Her skin looks lovely, and we are sure that most of you might be wondering why she even wears makeup. However, this stunning actress manages to rock any look and is a true inspiration for people who do not like to wear makeup every day or looking for some celeb style inspo to rock the no-makeup casual look.
Frequently Asked Questions
What is Megan Fox's skincare routine to maintain her natural beauty?
Megan Fox sticks to a minimal skincare routine to maintain her natural beauty. Apart from cleansing and moisturizing daily, she keeps herself hydrated, indulges in weekly facials, wears sunscreen, and maintains a healthy sleep schedule for healthy and glowing skin.
Has Megan Fox ever shared any photos or videos of herself without makeup on social media?
Yes, Megan Fox has shared some photos of herself without makeup on her Instagram account.
How does Megan Fox's natural beauty compare to her red carpet glam looks?
Megan Fox looks equally stunning with or without makeup. While the actress is known for her stunning red-carpet glam looks, her makeup-free skin is breathtaking.
Has Megan Fox ever commented on her preference for wearing or not wearing makeup?
Yes, Megan Fox does not wear makeup all the time. On the days she is not working, the actress skips her makeup to allow her skin to breathe.
Can you image Megan Fox without makeup? Get ready to see her natural beauty! Watch this video to find out the behind-the-scenes of her made-up face.
The post 15 Rare Pictures Of Megan Fox Without Makeup if you like this post then share this post with your friends and family