The classic black kajal or eyeliner has always been a staple in every makeup kit. But white eyeliners have recently stolen their spotlight, and for a good reason too! So, here we discuss some most effective ways to wear white eyeliner.
Black has always been a classy and timeless color for accentuating the eyes with makeup. It adds drama and intensity to the eyes and style. But white eyeliners are no less appealing, and the current generation of beauty influencers are seen discovering unique, elegant, attractive, and versatile ways to incorporate such cosmetics into their fashion world through social media tutorials, blogs, and videos. So, if you have bought white kajal or eyeliner but don't know how to use it, we have got you covered.
Quick Tip
The trend of using white eyeliners started in the 1960s. They were used with black eyeliner to create big, dramatic, and edgy eyes.
Have faith in your choice because we are about to tell you how the application of that white eyeliner can brighten up your eyes and give them a stunning look. Celebrities and models have time and again rocked this eyeliner shade on the runway, photoshoots, and concerts, and you can do it too. You just need the right guidelines and techniques to apply the eyeliner properly, and you will get a magnificent look. Swipe up!
Keep In Mind
Eye Shape: White eyeliner will give the appearance of bigger and livelier eyes. It does wonders for deep-set or droopy eyes.
Eye Makeup: Use warm eyeshadows such as brown, yellow, mustard, olive, and gold to balance out the coolness of white eyeliner.
Lipstick Shades: For a bold look, apply red lipstick, and for an everyday makeup look, you can pair white eyeliner with a nude lip shade.
Other Uses: You can use white eyeliner to emphasize the eyes by using it as a base for eyeshadow to make it pop or applying it to the inner corner of the eye for a highlighted look.
11 Different Ways To Use A White Eye Liner:
So, how do you use a white eyeliner? Here are the top 5 tips to use white eyeliner in 5 different ways to break the taboo:
1. Line Your Waterline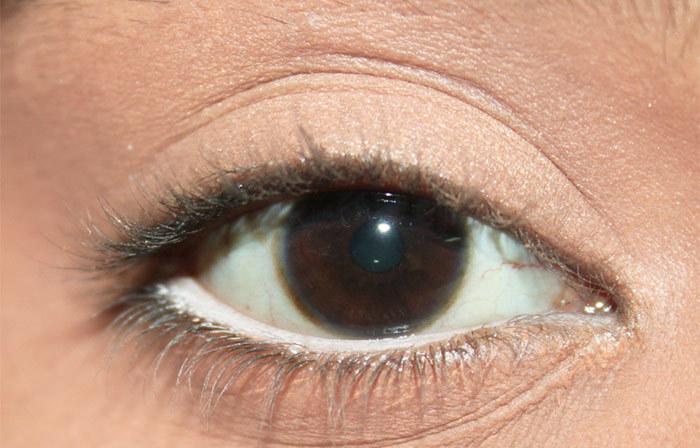 You can use the white eyeliner to line your waterline to instantly lift your eyes and make them appear bigger. When you apply it on your waterline, it makes your eyeballs appear bigger. It is also a trick to use it on people with Oriental, Asian, and deep-set eyes. It will help transform their eyes and make them appear bigger and brighter. If you have a dark skin tone, you may think that the white eyeliner will give a contrast or unflattering look. Then you can line your upper lash line with black eyeliner and fill the waterline with a white pencil. To create a balanced and subtle eye look, use black eyeliner along your lower lid's waterline. Who needs an occasion or event to feel special? And with a chic makeup tool that you can wear day and night, why should not you feel special? You can wear white eyeliner using this technique for, well, any and every event.
Related: How To Make Eyes Whiter From Yellow & Red (Makeup + Lifestyle)
2. Inner Corner Pop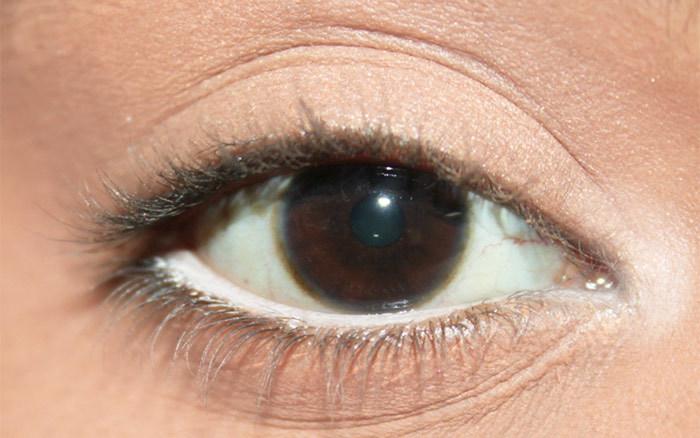 Use the white eyeliner at the innermost corner of your tear duct area to give an instant pop to tired and dull eyes. If you are still thinking that this modern experimentation is kind of crazy, but want to include it in your makeup, then it is best to trace it in the inner "V" of your eyes. This way, you can try white eyeliner without stepping out of your comfort zone. You can go minimalistic for a summer outing or go OTT with this technique when going to proms or parties.
3. Eyeshadow Pop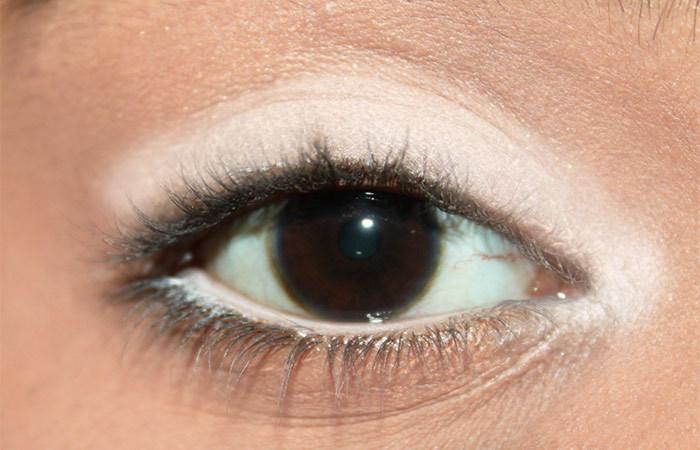 Use the white eyeliner and apply it to the entire eyelid area. Then, use a stiff eyeshadow brush or your ring finger and softly blend it out for the even distribution of the product. Now use your favorite eyeshadow to create an instant pop of color. The white base will prevent the creasing of your eyeshadows and also make them last longer. This is a perfect look when attending a winter wedding in a snowy location. Dreamy, right?! So is this look!
Fun Fact
Celebrities like Lady Gaga, Margot Robbie, Kristen Stewart, Rihanna, Priyanka Chopra, and Bella Hadid have frequently rocked the white eyeliner look.
Related: Makeup Tips To Make Small Eyes Look Bigger Using An Eyeliner
4. Brow Bone Lift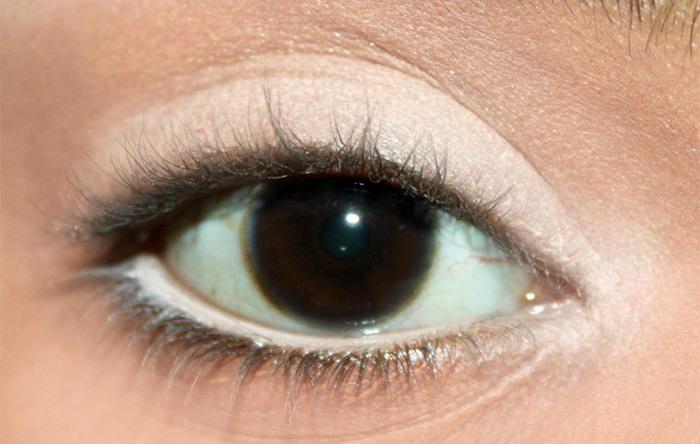 White eyeliner can also be used to lift your eyebrows. You can trace the shape of your natural eyebrows to give them an appearance. You can just apply it right under the highest point of the brow bone to highlight your eyes softly. For a dramatic and intense Halloween festival look, ditch your black liner and use the white liner to line from the beginning of your natural brow, from where your eyebrow arch starts and where it ends. Do this trick to lift your eyes.
5. Perfect Cupid Bow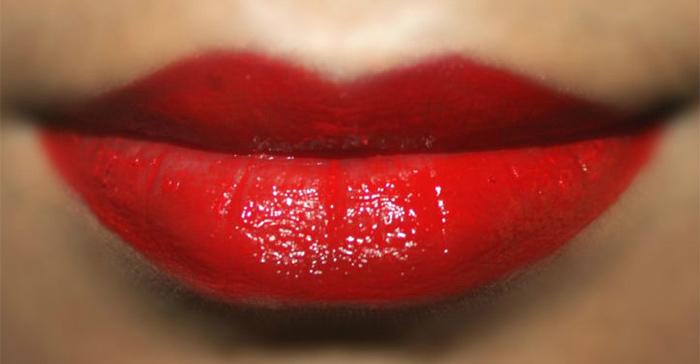 Apply the white eyeliner to the topmost cupid bow area to highlight and create an illusion of bigger lips. The key to achieving this trick is to blend the product seamlessly otherwise it might stand out stark and unflattering.
6. Frosty Lash Line
Apply the eyeliner under the lash line to create this bold look. Start by gently pulling down your lower lash line to expose the waterline. Then, carefully draw a thin line along the waterline. Extend it slightly outward in a winged shape. Blend and smudge for a softer look or draw a thick line for a more graphic eyeliner look. You can rock this look for parties, festivals, concerts, or any special event where you want to make a bold statement. It can also be a fun and unexpected choice for a night out or a creative makeup look for photoshoots or themed parties.
7. Winged Corners
Grab an angled brush and dip it into a cream or gel-based white eyeliner. Now, get your steady hand on and practice creating a small wing on the outer corner of each eye. Start from the middle of your eyelids. This will add a bit of flair without going overboard. If you want more definition, go ahead and line the rest of your eye with black or any color you fancy. You may also draw the inner corner for a futuristic look. Keep experimenting and perfecting your technique until you nail that desired effect. It's a versatile style that can be worn for a fun day out with friends, a casual date, or even a music festival. This is a great option when you want to add a subtle yet stylish twist to your everyday looks.
8. Fierce Feline Flick
Draw a thick line along your upper lash line with a white, pencil eyeliner. Extend it outward and upward for a dramatic wing. If you wish to keep it minimal and subtle, fill the shape with nude eyeshadow. Alternatively, go for bold and bright eyeshadow shades or glittery eyeshadow for a dramatic look. Finish by emphasizing your lower waterline with white eyeliner. This look is perfect for a night out on the town, a special event, or a glamorous party.
9. All Around Halo
Apply the eyeliner above the crease, tracing the shape of your upper lash lines. Repeat the same under the lower lash lines. Now, connect the outer corners, extending the lines slightly beyond to create a winged loop. This halo-like effect will brighten and open up your eyes, giving you a fresh and wide-eyed appearance. It's a versatile style that works well for daytime events, such as brunches, garden parties, or outdoor gatherings. It can also be a playful and refreshing choice for summer festivals, beach outings, or casual hangouts with friends. This eyeliner style is perfect for hooded eyes.
10. Delicate Cross Charm
Draw the inner corners of both eyes with white eyeliner. Now, draw a thick line from the middle of the eyelids and extend it beyond the outer corners of your eyes to create a winged look. Draw a vertical line that intersects the white wings, creating delicate cross shapes. Add a pop of neon eyeshadow on the inner and outer corners. This adds a unique and understated detail to your eye makeup and highlights your creativity and individuality. It can be a charming choice for a brunch date or a special occasion like a wedding or party.
11. Above The Crease Chic
Use a liquid white eyeliner and carefully draw a thin line above the crease in one smooth motion. Keep the eyeliner thin to achieve a precise, sharp, and defined look. This technique adds an edgy and modern touch to your eye makeup, emphasizing the upper eyelid area. You can add a bright eyeshadow just below the brows and use stick-on rhinestones or face gems to add oomph to your look. Embrace the avant-garde appeal of this look wherever you want to make a bold and statement-making impression.
Related: 4 Amazing Makeup Tips When You're Wearing A Coral Dress
Infographic: Reasons To Experiment With White Eyeliner
Since black has always been the standard eyeliner color, we understand if you are hesitant to try it in white. New things can be intimidating, and it is wise to be careful about your purchases. However, white eyeliners are worth trying, especially if you are the type who has creativity in their genes and always wants to experiment with your looks. Check out the infographic below for reasons to convince you that white eyeliners are right up your alley.

White eyeliners are not everybody's cup of tea—or so it may seem till you take the plunge and try out these different ways to wear white eyeliner. Depending on how bold or impactful you want your look to be, you can apply it to line your eyes or highlight your cupid brow for fuller lips. In addition, white eyeliners can help your eyes look bigger and brighter, especially when applied on the waterline. If you are apprehensive about sporting a white liner but still want to try it out, you can pair it with a black liner or kohl.
Frequently Asked Questions
Why do people wear white eyeliner?
People prefer white eyeliner to black because it helps make their eyes look bigger when applied to the lower lash line. It also brightens up their look.
Is white eyeliner popular?
Yes. Dior recently heavily featured white eyeliner at their Spring 2022 couture show.
Is white eyeliner good for big eyes?
Since white eyeliner makes eyes look bigger and brighter, people with big eyes should avoid them, unless they are going for even more prominent eyes.
Can white eyeliner make me look younger?
Yes. When applied correctly, it makes your eye look wider, brighter and adds a subtle glow, making your face look younger.
Can I wear white eyeliner after 50?
Yes! People can wear white eyeliner before and after 50, and it's a great way to brighten the eyes. Opt for beige or cream-white eyeliners for the best results.
Key Takeaways
Line your waterline with white eyeliner to transform your eyes and make them look bigger. You may also apply it to the inner corner to give your eyes instant pop.
White eyeliner is a great eyeshadow base because it prevents creasing and increases the longevity of eye makeup.
Apply white eyeliner on the highest brow bone to highlight and lift your eyes subtly.
You can use white eyeliner to create bigger lips by applying it on the cupid's bow. Blend the product properly to avoid making it stand out.
Check out this video for 5 new ways to wear white eyeliner! Get creative with your makeup and learn how to rock this trend.
The post 11 New Ways To Wear A White Eye Liner if you like this post then share this post with your friends and family