When we picture our best selves, most of us imagine ourselves relaxing on the beach with sunlit blonde hair. But bleaching your hair to achieve golden locks may not be an appealing idea. But your savior is here in the form of blonde balayage hair looks.
You can have brown or blonde hair; a balayage works on both! It adds a dash of color to your hair, making it look very natural. It enhances your hair's dimension, depth, and bounce. And when it comes to hair color maintenance, this technique colors your hair, so it grows out naturally and does not require regular refreshers. If you do not want to shell out the big bucks at the salon, here's a DIY tutorial so you can achieve the hair transformation of your dreams from the coziness of your bathroom.
Quick Hair Color Guide: Blonde Balayage
How To Choose A Shade: Go for champagne, platinum, ash, or silver blonde balayage if you have a cool skin tone and beige or honey blonde balayage if you have a warm skin tone.
Level Of Maintenance: Low to medium
Suitable For: All skin tones and straight or wavy hair
Looks Best With: Nude makeup and bold red lipstick
Trivia
Cara Delevingne, Lucy Hale, Khloé Kardashian, and Jessica Alba are some well-known celebrities to have worn blonde balayage hair.
How To Do A Blonde Balayage At Home
What You Need
Balayage kit
Rubber gloves
Paddle brush
Hair coloring brush
Sectioning clip
Shampoo
Conditioner
Toner (optional)
What To Do
Mix the dye in your balayage kit according to the instructions given on the box.
Put on your rubber gloves.
Section away the hair at the top of your head by rolling it into a bun and clipping it up.
Use your hair coloring brush to coat the bristles of your paddle brush with dye.
Run this brush through a section of your hair from the midsection to the ends of your hair.
Flip the brush and run it through the same section of hair, but from the back.
Run the brush a couple of times over the ends as they require more dye than the top section of your hair.
Keep applying dye to your brush and running it through your hair until you've covered all the sections. Make sure you stagger the points where you start applying the dye from (you can go higher up on some sections and start from the midsections on the others) so that your balayage looks more blended with your natural hair color.
Unclip the top section of your hair and apply dye to it the same way.
Leave the dye on for the processing time indicated on the box.
Wash off all the dye with a color safe shampoo and conditioner.
You will need to use a toner on your hair if it ends up having brassy or orange undertones.
And that's how easy it is to balayage your hair blonde from the comfort of your own home! So, let's look at the best and most elegant blonde balayage hair ideas you can try out
Related: 32 Stunning Balayage Hair Color Ideas For Women To Try
20 Most Beautiful Ways To Style Your Blonde Balayage
1. Subtle Blonde Balayage
Ladies, if you're looking for a no maintenance and natural looking blonde balayage hair inspiration then this one here is just for you. This sandy blonde balayage on light brown hair has been done so subtly that it looks like it grew out like that. Nevertheless, it adds some gorgeous dimension to her hair look.
2. Ribbon Blonde Balayage
When it comes to styling a blonde balayage on dark brown hair, it's important that you don't go super light with the balayage highlights. Handpainted golden blonde highlights ribboning through dark mahogany brown hair make for a youthful and stunning look.
Related: 30 Marvelous Balayage Styles For Straight Hair
3. Icy Blonde Balayage With Babylights
There's so much going on in this breathtaking balayage look that I don't even know where to start. First, there's the cool toned blonde balayage that creates a gorgeous contrast with the warm toned light blonde base. Then, there's the dark shadow root that adds depth to the whole look. Lastly, the whole look has been given some great dimension with dark babylights scattered throughout her hair.
4. Brown To Blonde Balayage
When you're transitioning from brunette to blonde, it's imperative that you take things slow and go for some transitional looks in the middle. This gorgeous light brown to light blonde balayage ombre is the perfect look for such situations. Just style your hair straight to make the most of this color job.
5. Platinum Blonde Balayage
Want to change your look from 'girl next door' to 'coolest girl on the block'? Then this cool toned blonde balayage is definitely what you need. The ash blonde base color slowly transitions into a platinum blonde in this cool toned blonde balayage style. The shoulder length layered cut and bouncy curls take this look to a whole new level.
6. Softly Blended Blonde Balayage
Soft and elegant – these are the words that come to mind when I look at this beautifully blended balayage look. This expertly handpainted toffee blonde balayage looks striking against her dark brown base and creates a perfectly balanced light and dark hair look. This color job is especially great for someone who's looking for a change from their boring old brunette locks.
7. All Over Platinum Blonde Balayage
If a dramatic makeover is what you're looking for, then dramatic is exactly what you will get with this all over balayage look. The bright platinum blonde shade swept all through her hair is accentuated even more with the help of the dark brown shadow root at the top.
Related: 27 Balayage Hairstyles For Black Hair
8. Dark Blonde Balayage
For all you ladies who are fans of dark tones but still want to experiment with blonde, this one's for you! A beautifully handpainted balayage done in caramel blonde tones on chocolate brown hair, this hair looks perfect on long, layered hair. Style this color job in curls to complete this stunning look.
9. Silver Blonde Balayage
You, my lady, are a truly magical being, and you deserve to look like one. And what better way to do it than with a breathtaking silver blonde balayage? The way that the silver blonde balayage has been blended into light blonde hair color creates a visually gorgeous multidimensional effect.
10. Warm Blonde Balayage
Have you ever seen the gorgeous hues of golden butter melting on brown toast? This beautiful blonde balayage style was inspired by that image. Warm toned blonde balayage highlights stand out beautifully against the deep brown base of this look. Style this color job in a short bob cut and barrel curls to look uber chic!
11. Titanium Blonde Balayage
Make your wildest hair fantasies come true with this titanium toned balayage that looks like it came straight out of a futuristic movie. This white blonde balayage done on a honey blonde is the perfect example of warm and cool tones blending perfectly to create a stunning hair look.
Quick Tip
Titanium balayage looks good with brown hair shades. Since both are neutral shades, they complement each other. However, ensure to match the undertone.
12. Beige Blonde Balayage
Wanna teeter the line between brunette and blonde? Then, beige is definitely the way to go for you. This beige blonde balayage is quite unique as it starts from below the midsection and is completely saturated at the ends, thus giving it a very dip dyed effect.
13. Ash Blonde Balayage
Looking for a style to rock in winter? Then this cool toned blonde balayage will work perfectly for you! This multidimensional balayage starts off as a rich brown at the roots that then melts into a deep golden blonde at the mid shafts and a gorgeous ash blonde balayage with gray undertones at the ends.
Related: 27 Trendy Balayage Looks For Short Hair
14. Strawberry Blonde Balayage
For all you ladies who can't decide between going for a redheaded or blonde style, this one's for you! A strawberry blonde shade that is a rich warm blonde with red undertones is the perfect in-between shade that will work wonderfully for you. It also makes for the perfect dark to light transition balayage.
15. Sandy Blonde Balayage
A common misconception among curly haired women is that a balayage won't look good on their hair. But that couldn't be further from the truth! This sandy blonde balayage done on light brown hair, for example, adds some intense depth and dimension to her ringlet curls.
16. Color Melted Blonde Balayage
The one thing that all women want when they go for natural toned color jobs is to make their hair look, well, natural. And a color melted look is the best way to go about it. This look, for instance, has warm brunette shades at the roots that melt seamlessly into a rich blonde balayage.
17. Peach Toned Blonde Balayage
Warm toned hair has a way of looking breathtaking while still maintaining that aura of effortlessness. So balayage your brunette mane with shades of peach, light brown and sandy blonde to create this hair look. Lastly, style this work of art in beachy waves to turn into a true masterpiece.
18. Bright Blonde Balayage
Worried that your hair is looking dull and lifeless these days? Then here's a style that will brighten up your mane by a 1000 watts! The naturally medium blonde base here has been given a new lease of life with a balayage done with a bright blonde hue. The long and wavy locks that it has been done on only add to its beauty.
19. Multidimensional Blonde Balayage
A great way to create a multidimensional color look with your balayage is to blend multiple shades of the same color. For instance, this fashionable balayage style makes use of light blonde, honey blonde, and light brown shades to add tons of dimension to her natural dark brown base.
Related: Ombre Vs. Balayage: Types And Difference
20. Caramel Blonde Balayage
From a dark jet black to a rich caramel blonde tone, this trendy balayage is the perfect example of a flawless transition. And if you're planning on eventually going full blonde with your hair, then this style works out even better. In the meantime, style this blonde balayage in some low curls to make it look even prettier.
Infographic: Tips To Care For Your Blonde Balayage
How gorgeous do these blonde balayage hairstyles look! If you want to add that cool twist to your hair but do not want to cause harm to the roots, balayage is what you need. But that is not all. Given the amount of chemicals that will go into your hair in the process, you will need to up your hair care game. Check out the infographic below for tips to maintain your colored hair and care for it.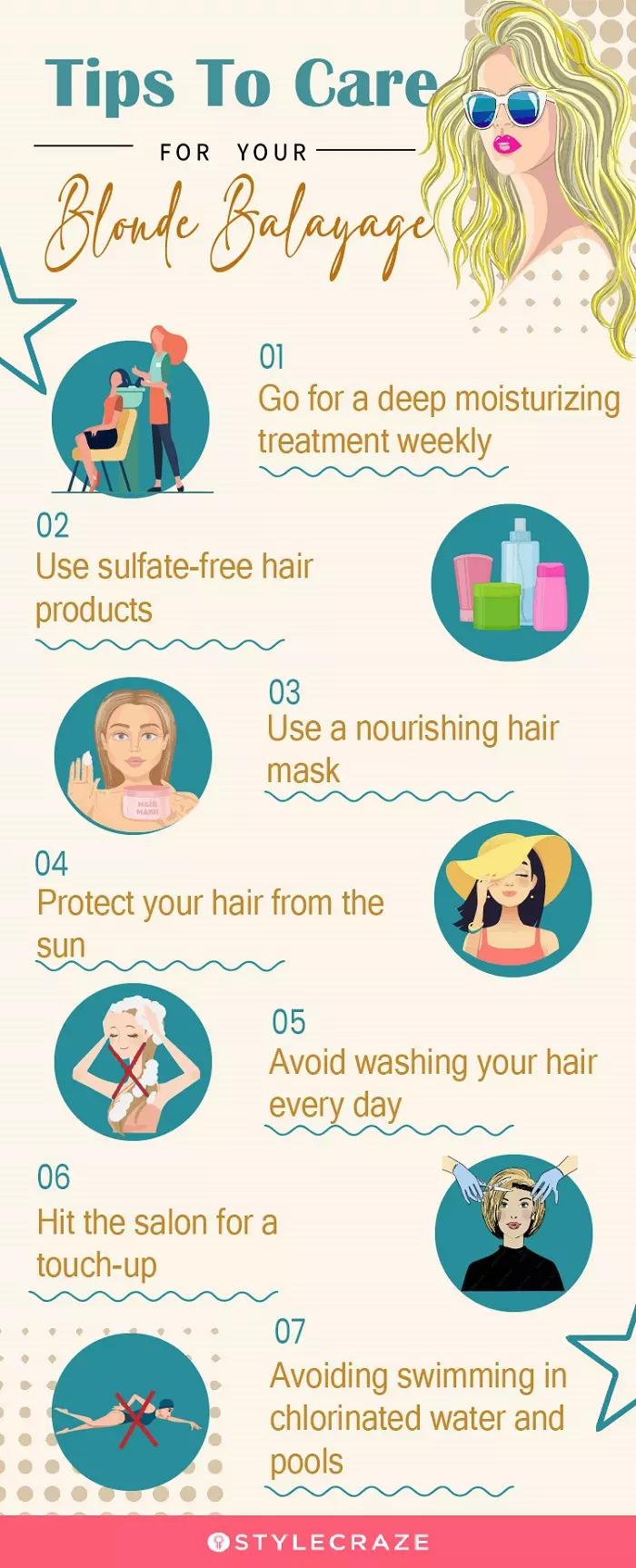 You can add a dash of color to your hair by choosing one of the stunning blonde balayage hair looks shared in this post. Blonde balayage hairstyles look completely natural and improve the definition, depth, and bounce of your hair. In terms of hair color maintenance, this approach dyes your hair in a manner that it can grow out naturally and so you do not have to go for regular touch-ups. If you want a blonde balayage look and don't want to spend big money at the salon, follow the DIY technique described here and get the hair makeover of your dreams from the comfort of your own home.
Frequently Asked Questions
Which is better: ombre or blonde balayage?
Both blonde ombre and blonde balayage are currently topping the hair trend charts. Ombre may look better on long hair, whereas blonde balayage may be great if you are looking for longer durations between touch ups.
Is blonde balayage more expensive than highlights?
Yes, blonde balayage is more expensive to get done than highlights.
How long does blonde balayage last?
Generally blonde balayage lasts between 3 to 4 months.
How long does blonde balayage take?
On average, it takes anywhere between 1.5 to 3 hours to complete a balayage. However, the duration may vary depending on the thickness and length of hair. Sometimes, it may even take 6 hours.
Can you do balayage on box-dyed hair?
No. It is recommended that you wait atleast for 3 weeks after box dying your hair and then get a balayage.
Key Takeaways
Blonde balayage can enhance your hair's dimension and add depth and bounce to your hair.
Some beautiful blonde hair looks with balayage, including ribbon blonde balayage, brown to blonde balayage, dark blonde balayage, warm blonde balayage, sandy blonde balayage and peach-toned blonde balayage.
Blonde balayage can be done on all hair lengths and textures, and the color grows out naturally.
Sulfate-free shampoos and conditioners help protect the color and prevent brassiness.
Chlorinated water can be harmful for your hair. Weekly deep moisturizing treatments can restore its health and vibrancy.
Get inspired for your next salon visi and make everyone mesmerized by your new look! Check out this amazing video for 4 stunning blonde balayage hair transformation ideas.
The post 20 Beautiful Blonde Balayage Hair Looks & How To Do It At Home if you like this post then share this post with your friends and family