Winter is here! And so is dry and damaged hair. If you are on the lookout for a shampoo that can banish your hair problems, you're on the right page. Why? Because, after extensive research, we have compiled a dream list for girls with dry hair – a list that contains 16 best shampoos for dry and damaged hair. If your morning routine includes 80% of cribbing and 20% of praying for flawless hair, we can totally relate to it. Hence, this article! Take a look at the list and brace yourself for better hair days to come.
Let's now take a look at the best shampoos for dry and damaged hair.
Top 16 Shampoos For Dry And Damaged Hair
1.Pantene Advanced Hairfall Solution Total Damage Care Shampoo
This shampoo is from the new Advanced Hairfall Solution range of Pantene. It is formulated by combining their very popular and beneficial pro vitamin, with beneficial properties of fermented rice water, which is rich in 8 essential amino acids and vitamins. It nourishes hair from within, providing it with gentle care from root to its tip. The best part about this shampoo is that it will undo the damage done to your hair while strengthening it against hair fall.
Pros
Reduces frizz and tames unruly wild hair
Soothes the scalp and nourishes it
Provides intense moisturization to your hair
Protects your hair against dust and heat
Reduces hair fall
Adds shine to your tresses
Cons
None
Back To TOC
–>
2. Garnier Ultra Blends Mythic Olive Shampoo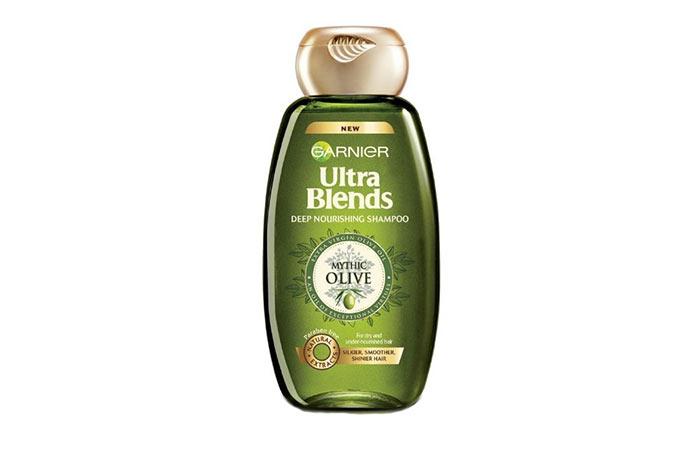 Garnier Ultra Blends Mythic Olive Deep Nourishing Shampoo is a boon for dry and damaged hair. It banishes roughness, dullness, and frizz and leaves your hair much softer, shinier, and healthier. This formula is a blend of virgin olive oil and vitamin E that help nourish, protect, and repair dry and rough hair. It leaves your hair intensely moisturized and makes it incredibly easy to manage. This shampoo for dry hair claims to add extra softness and brilliant shine from the very first wash.
Pros
Improves overall hair health
Prevents split ends and breakage
A little quantity goes a long way
Gives you salon-finish hair
Cleanses dirt and oil
Cons
Not suitable for all hair types
Might take time to deliver results
<!–
Back To TOC
–>
3. Mamaearth Happy Heads Shampoo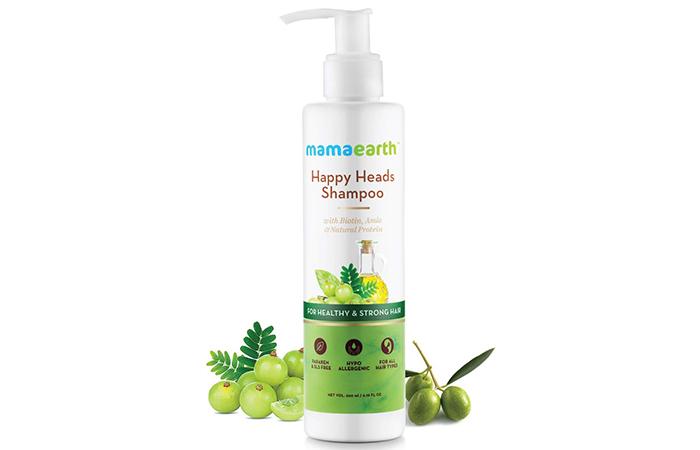 The Happy Heads Shampoo from the house of Mamaearth contains a generous dose of Biotin, Amla and Natural Protein. This shampoo helps in gently cleansing your scalp while locking in moisture so that your roots don't feel dry. The vitamin B5 content keeps your scalp healthy and nourishes it from root to tip. The Mamaearth shampoo also claims reverse the signs of hair loss, repair damaged hair and promote new hair growth.
Pros
Made of natural ingredients
Parabens and SLS free
Deeply nourishing and moisturizing
Helps in controlling hair fall
Prevents split ends
Suitable for all hair types
Hypoallergenic
Cons
None
4. Tresemme Hair Spa Rejuvenation Shampoo
What's better than a hair spa at home? Infused with hydrating marine minerals complex and essential nutrients, this therapeutic shampoo deeply nourishes and cleanses your hair and scalp. The high-quality ingredients give you salon-like hair right at home. It ensures to leave your hair thoroughly conditioned and moisturized in just a couple of washes. It is the best shampoo for dry scalp and promotes healthy hair growth. It also adds volume and body, leaving your hair looking thicker and shinier.
Pros
Nice fragrance
Restores strength
Detangles your hair
Clears dirt and build-ups
Tames flyaways
Cons
Weighs your hair down
Not long-lasting
5. Khadi Conditioning Cream Shampoo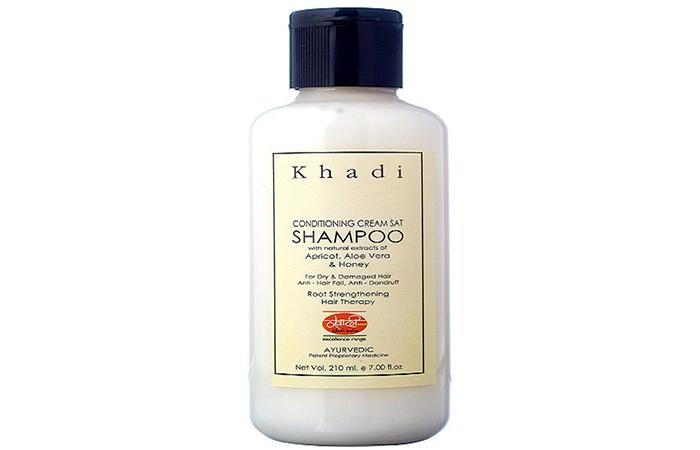 This shampoo is fortified with natural conditioning oils and nourishing herbal extracts to repair dry, damaged, and fragile hair. It contains active biomolecules that deeply penetrate the hair cuticles and cortex, adding moisture to it. The formula helps form a lubricious film on each hair strand, significantly increasing its strength and vitality with time.
Pros
Gentle cleanser
Adds volume and bounce
Revives damaged tresses
Free of harsh chemicals
Travel-friendly
Cons
Can cause dryness initially
6. WOW Apple Cider Vinegar Shampoo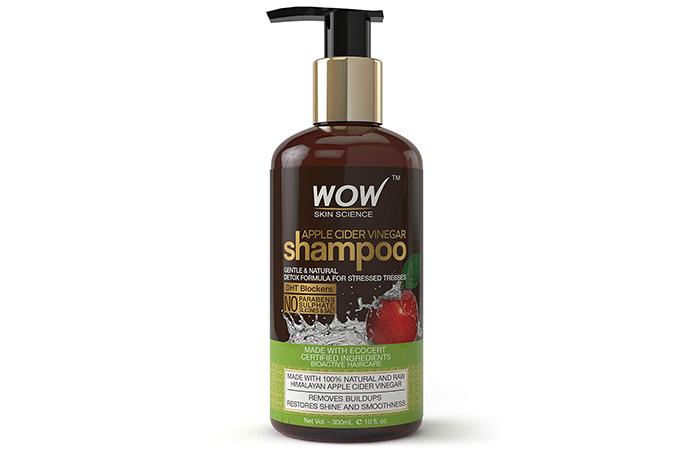 This organic shampoo is powered with 100% pure apple cider vinegar, sweet almond oil, and argan oil. The combination helps detoxify the hair and scalp by removing build-up, dirt, and residue. It keeps your frizz in control and removes tangles. It prevents dandruff and keeps your hair lighter, cleaner, and itch-free. It is the best shampoo for damaged hair and split ends as it imparts silkiness, strength, and gloss to your hair.
Pros
Soothes dry and itchy scalp
Balances pH of hair and scalp
Improves hair texture
Free of harsh chemicals
Cons
Takes time to rinse off oil
7. Matrix Biolage Ultra Hydrasource Shampoo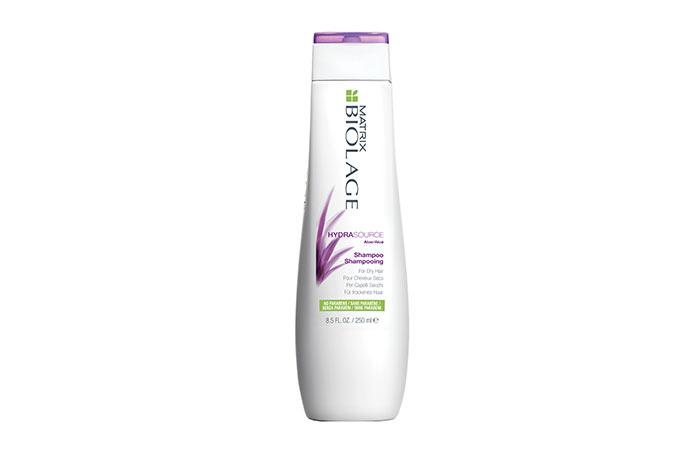 Dry hair needs extra nourishment and moisture, and Matrix Ultra Hydrasource Shampoo does the job perfectly. It conditions your hair and prevents breakage, frizz, and flyaways. This smoothing shampoo helps optimize moisture levels in your hair. It also gently cleanses your hair, leaving it extremely, soft, shiny, and hydrated. It is formulated with aloe, cupuaçu butter, and apricot kernel oil to help add volume and body to your hair.
Pros
Lathers well
Detangles stubborn locks
Soothes flaky scalp
Paraben-free
Travel-friendly packaging
Cons
Not long-lasting
Not suitable for all hair types
8. Dove Intense Repair Shampoo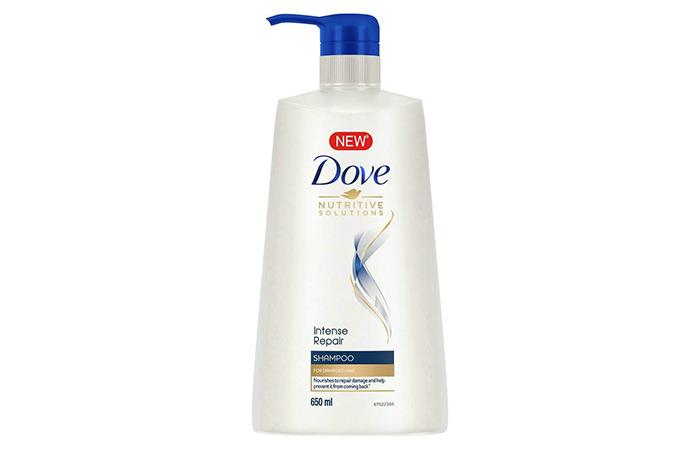 If you are looking for the best shampoo for damaged hair, your answer is right here. Dove Intense Repair Shampoo is specially formulated to treat damaged tresses from deep inside. It nourishes and restores your hair wash after wash. Made with nutri-keratin repair formula, this shampoo actively rejuvenates each hair strand and helps protect your hair against future damage. It quickly banishes split ends, making your hair look and feel smoother, stronger, and healthier.
Pros
Lathers well
Provides deep nourishment
Nice fragrance
Hair feels exceptionally soft
Soothes dry strands
Cons
Weighs your hair down
9. Biotique Bio Soya Protein Fresh Nourishing Shampoo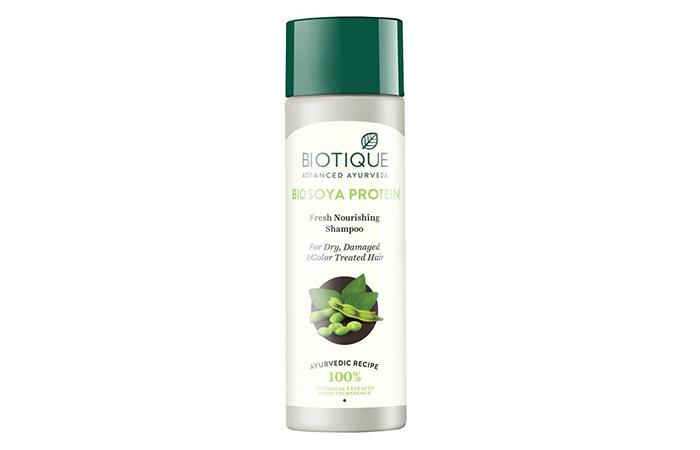 This nature-inspired shampoo brand is known for its naturally derived Ayurvedic beauty and science expertise. This shampoo is infused with soy protein, which is a major source of nutrients for healthy hair. It also repairs damaged cuticles as it has high restorative properties. This rejuvenating shampoo also contains burberry and wild turmeric extracts to help cleanse your hair without disrupting its natural pH balance. It contains almond and mustard oil that help in promoting new hair growth. On the whole, this shampoo leaves your hair looking much healthier and softer with intense shine.
Pros
Protects your hair color
Rinses away dirt and oil
Makes your hair more manageable
Strengthens the roots
Adds volume
Cons
Can dry your hair initially.
10. L'Oreal Paris Smooth Intense Shampoo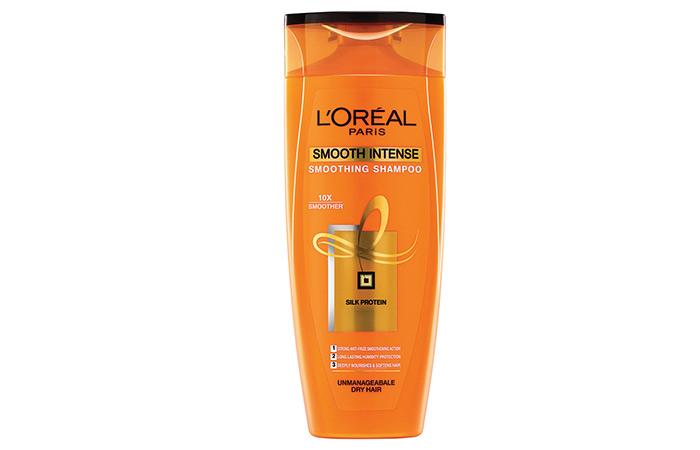 Argan oil, also known as liquid gold, is a perfect remedy for dry hair. This shampoo is infused with argan oil and silk protein, which is a natural source of essential fatty nutrients. It gently cleanses and nourishes your hair from root to tip. It gives 48 hours protection against humid and dry weather. The creme formula smoothes each strand, making it look soft and manageable. It renews the texture and shine of your hair and provides long-lasting smoothening.
Pros
Controls frizz
Adds shine
Tames flyaways
Imparts long-lasting glossy look
Cons
Can make your hair oily
11. Oriflame Love Nature Wheat & Coconut Oil Shampoo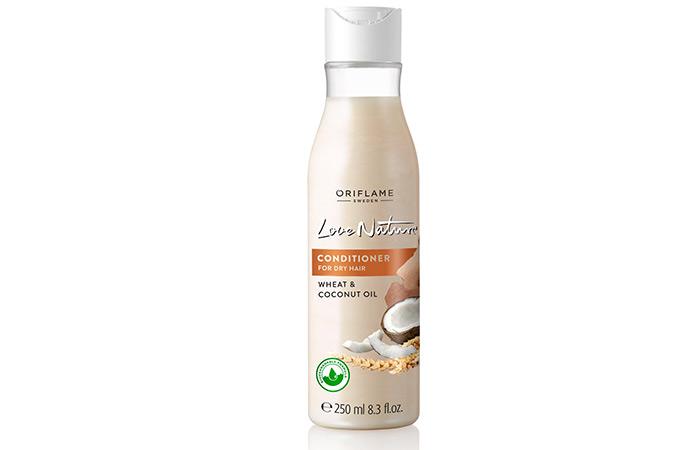 Oriflame's Wheat & Coconut Oil Shampoo is a creamy formula that cleanses your hair gently and helps fight dryness and breakage. It is an excellent shampoo for conditioning dry, damaged, and fragile tresses. Wheat protein strengthens weak follicles, and coconut oil nourishes your hair. This shampoo moisturizes your locks and keeps them soft and shiny. It minimizes splitting and adds gloss to your hair.
Pros
Pleasant fragrance
Adds shine to dull and rough hair
Hydrates your hair
Prevents split ends
Safe for all age groups
Cons
Comes in a limited quantity
Offline availability might be an issue.
12. OGX Coconut Milk Shampoo
The deliciously creamy formula is infused with a nourishing blend of ingredients that add strength and elasticity to your hair. The pure coconut oil extracts add hydration and balance, preventing damage, splitting, and breakage. Unlike regular sulfate-free shampoos, it produces a nice foamy lather. It settles unruly hair and fights frizz to give you shiny, luscious, and healthy hair.
Pros
Nice fragrance
A little product goes a long way
Soothes dry scalp
Cruelty-free
Cons
Can make your scalp greasy
13. Moroccanoil Hydrating Shampoo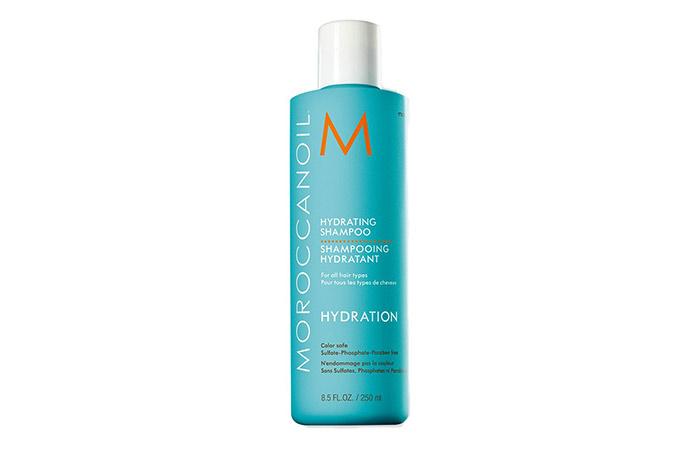 Get rid of dry and dehydrated hair with this luxurious argan oil-infused shampoo. It imparts the much-needed moisture to rough and depleted hair. This is the best hydrating shampoo as it contains antioxidant-rich argan oil, vitamins A and E, and moisturizing red algae. These ingredients protect your hair from dryness and combat free radicals. The shampoo renews and repairs damaged cuticles and maintains its moisture balance. It is a gentle formula that provides optimal hydration for all hair types. It ensures to increase hair's manageability, smoothness, and shine in a single wash.
Pros
Nourishes each strand
Helps maintain pH balance
Free of harsh chemicals
Color-safe
Cons
Expensive
Availability issues
Price at the time of publication: $26
14. Schwarzkopf BC Bonacure Smooth Perfect Shampoo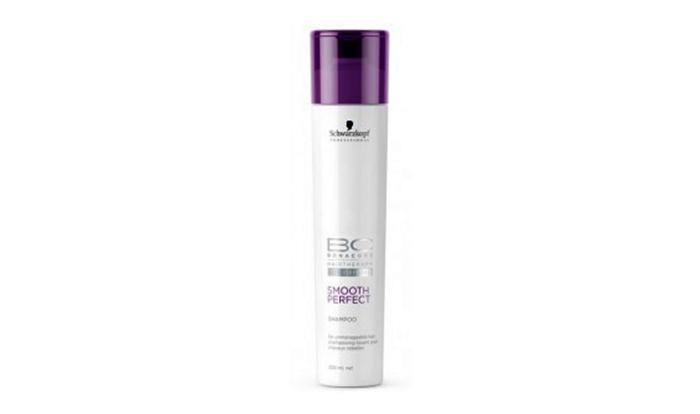 This shampoo claims to protect your hair against humidity for up to four days. The product is powered with an amino smoothing agent, a highly effective amino compound, which helps nourish and manage long, thick, coarse, and damaged hair. This technology protects your hair against styling heat, pollution, and product build-up. It contains natural oils that help smoothen wild and unruly flyaways.
Pros
Provides long-lasting shine
Strengthens the roots
Controls hair fall
Improves hair texture
Cons
Available only at exclusive stores.
amzn_assoc_placement = "adunit0";
amzn_assoc_search_bar = "false";
amzn_assoc_tracking_id = "sc-newsearchads-20";
amzn_assoc_ad_mode = "search";
amzn_assoc_ad_type = "smart";
amzn_assoc_marketplace = "amazon";
amzn_assoc_region = "US";
amzn_assoc_title = "You May Also Like";
amzn_assoc_default_search_phrase = "16 Best Shampoos For Dry And Damaged Hair In India";
amzn_assoc_default_category = "All";
amzn_assoc_linkid = "00911ac0b9acbb4a569c701102d24f97";

15. Giovanni Smooth As Silk Deep Moisture Shampoo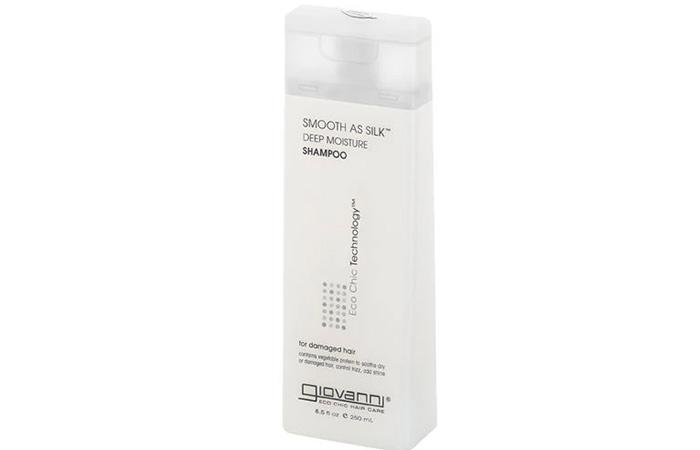 If you want to upgrade to a high-end shampoo, this is the product for you. Giovanni Deep Moisture Shampoo is powered with a pearlized formula that imparts a silky texture to your hair. The new, improved formula contains apple and aloe extracts that provide antioxidants for strong, shiny, and healthy hair. It soothes even the driest parts of your hair and fights frizz. It gently cleanses your hair and calms unruly tresses. It also adds instant shine to dull and lifeless hair.
Pros
Repairs damaged hair
Prevents splitting and breakage
Ideal for dry and over-processed hair
Adds glossy look to your hair
Cons
Availability issues
Expensive
<!–
Back To TOC
–>
16. Sunsilk Nourishing Soft & Smooth Shampoo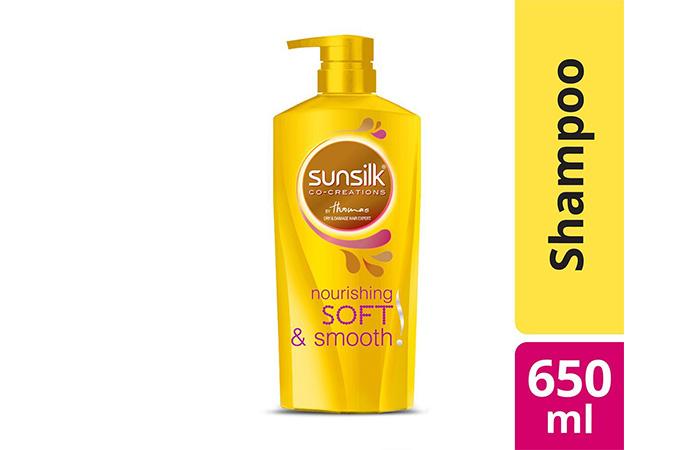 If you are looking for a shampoo that can make your hair look shiny, soft, and smooth at a reasonable price, this is it. The new formula contains a blend of five natural oils like argan oil, babassu oil, almond oil, camelia oil, and coconut oil that deeply nourish your hair without making it greasy. It helps retains smoothness of hair by fighting frizz, breakage, and split ends. This joyful yellow shampoo has a fresh, perky fragrance. Many claim that within a couple of washes, they could notice visible softness in their hair.
Pros
Curbs dryness
Suitable for thick, coarse, and long hair
Adds immense shine
Cons
Not a permanent solution for damaged hair.
Let's first understand why your hair becomes dry and damaged.
Note: Changing your shampoo alone will not help restore hair health. Regular oiling, conditioning, deep conditioning, and using nourishing hair packs are key to ensure your hair stays healthy and damage-free.
Have you tried any of these shampoos for dry and damaged hair? Tell us about your experience in the comments section below.
Recommended Articles
Best TRESemme Shampoos – Our Top 10
Best Shampoos For Curly Hair – Our Top 10
Best Shampoos For Frizzy Hair Available In India
Best Ayurvedic Shampoos – Our Top 10
Top 15 Dove Shampoos Available In India
The post 16 Best Shampoos For Dry And Damaged Hair In India if you like this post then share this post with your friends and family