If you are facing a problem straightening your hair, you have come to the right place. We will tell you everything you need to know about how to straighten your hair in detail.
A hair straightener is a heat styling tool used to iron out the waves and curls from your hair. You are mistaken if you believe this magnificent creation is a product of modern times.
The idea for this must-have hairstyle tool was first conceived in the 1800s. Contrary to popular belief, women were quite fashion-conscious at that time. This tool evolved in every way possible over the years. It now boasts the most up-to-date look and is incredibly user-friendly. However, despite all of this tool's advantages, it does have some drawbacks that users must deal with daily.
If you use a hair straightener regularly, you have probably had days when your straightened hair does not look up to the mark. Those bad hair days are hard to deal with. Well, they could be the result of using either incorrect hair styling techniques or wrong hair products.
If you want to learn how to straighten your hair the right way, just keep reading this article. Scroll down!
Setting It Straight And Right!
Ask any girl, which is your favorite hair styling tool? Hair Tong is what you will get to hear.
A hair tong, also known as a flat iron or a hair straightener, is a heating tool used to get the desired shape of the hair making hair maintenance quite easy. If you think that this wonderful creation is a thing of the modern times, you are wrong.
The concept of this must-have hair styling tool was developed in as early as the 1800s. The ladies then too were fashion conscious. In fact, they were much more aware than what you or I might be today. With time, the tool evolved in every way. Today it has the most modern appearance and is extremely user-friendly. But even with all the benefits of this tool, there are some problems faced by everyday users.
If you're a regular user of a hair straightener like I am, I am sure you experience days when the straightening just never comes right. I put those days under the 'bad hair day' category when your hair texture and hairstyle could not be more annoying. However, I have lately realized that it could be either the wrong technique or the wrong product that is responsible. Whatever the reason, it is frustrating to get poor results.
Here is how you can get it right!
Straightening Tips While Using A Flat Iron
1. Get The Start Right
Never start before your flat iron is fully hot. Always make sure that your hair tong is at the right temperature. The logic here is – a flat iron is supposed to do its job well only when it is properly heated. Failing to do this, you will end up with hair curls after just a few hours.
2. Clean It To Maintain It
Make sure your flat iron is clean and well-maintained. This is to be treated like any other device. Dust always hampers the heat and affects the result adversely. So clean and maintain it well otherwise, you will not be able to get the straightening right. If not cleaned well, dust, grime, and grease will stick to your hair – making hair damage easier. Plus, it will make your hair clump together. So, for hair damage prevention while using a clean straightener, you must also wash your hair well.
Quick Tip
Dip a cotton pad into rubbing alcohol and clean the iron properly. Once done, wipe the entire iron clean with a cloth. Ensure you clean your iron once a week.
3. Comb It Right
Brush or comb your hair well before you begin hair ironing. Then again, if your hair is very curly, start with thorough hair detangling and keep combing in between straightening. This helps get the shape right and holds it for longer.
Related: 6 Amazing Benefits Of Brushing Hair & How To Do It Perfectly
4. Always Start Backwards
Make sure you start with the back of your head always. Then slowly, work to the front. Ideally, the hair in your front should be the last thing to be straightened, and most even professionals vouch for this hair straightening tip.
5. One Inch At A Time
Each time you divide your hair into different sections to straighten your hair, go for one-inch sections of hair at a time. Take a one-inch section and iron it well. Don't lose patience. It is okay to go slow – thin hair sectioning may take time but it will let you have perfect and long-lasting straight hair.
These straight hair tips were some of the least spoken of yet most relevant hair straightening tips for people who love straightened hair.
Use hydrating shampoo and conditioner and a nourishing hair mask, for your hair if you use the flat iron every day. We also advise you to opt for a ceramic-plated hair straightener so you do not have to compromise your hair health. This will lessen the damage, reduce frizz and give better results. Always use a heat protectant before you start straightening to ensure hair protection against getting burned or dried out.
Quick Tip
Ensure your hair is completely dry before you use a flat iron. Even semi-damp hair can cause severe damage to your hair.
Which Tools Should Be Present In The Hair Straightening Kit?
Here are a few tips to follow while purchasing your hair straightening kit:
1. Hair Iron
Of course, the most important tool to consider in a hair straightening kit is the hair iron! While looking for a hair iron, select the one that is the best in the market. It does not matter if you go for an expensive one. The most important feature that you must look for is the temperature control. If you can control the temperature, you can easily style your hair straight or can acquire any other look you want.
2. Clips For Sectioning
It is always easier to straighten your hair in sections, as this will lend volume to the hair. Frizzy hair has more volume than straight hair. But, if the straightening process is followed correctly, then you can have a nice bumpy finish to your style. Always go for different hair clips and hair pins and make them a part of your kit.
3. Hair Brush
Another component that is a must in your hair straightening kit is the right hair brush. There is no particular brush for hair straightening, but the right choice of brush is an important factor. There are several brushes to choose from the ones available in the market. The metal core round hair straightening brush is one of the best brushes. It will help you to untangle those curls. Brush with soft bristles is also necessary. It will help straighten up the hair as you go pulling down the iron to get the right bend.
Related: Hair Brush Types And How To Use Them
4. A Hair Dryer
A hair dryer is a girl's best friend. It will give your hair a permanent base to settle when using a hair straightening gel or lotion with the iron. The hair blow drying leads to a hair volumizing effect which makes your hair look bouncy. It will also help cool your hair down at the time of using a hot iron for hair straightening.
Related: Heat Gun Vs. Hair Dryer: Can Both Be Used For Hair?
5. Flat Rollers
Flat rollers come in different varieties. The best one is that which has various functions, which can also easily untangle your hair. Rollers may come with different attachments. You can use the rollers for acquiring different styles. There are a variety of brands that sell differently priced, easy-to-use rollers. The choice is yours. Pick one according to your need. You can try different hairstyles in addition to hair straightening with the presence of these things in your hair straightening kit.
These are some of the major components that you must look for while purchasing a hair straightening kit. There are many choices available in the market. Do not hesitate to do some research before spending your money. Many brands will promise to give you straight hair within a few minutes. But, don't go for the name. Always give importance to your priorities. These precious pieces in our kit help to enhance our beauty to a great extent. But, it is important to know how to keep your hair safe and sound. The best style you can give your hair is by taking good care of it. It's important to follow a moisturizing and protective hair routine to keep your hair hydrated and reduce damage. Don't just follow the trend. Go for your own style!
Infographic: How To Choose A Flat Iron For Your Hair Type
We are sure these tips will make you a pro at straightening your hair in no time. However, are you sure you are using the right kind of flat iron for your hair type? Not all flat irons are built the same, and using hair tools that are not suitable for your hair can actually do more harm than good. Check out the infographic below to figure out what kind of flat iron to use for your hair.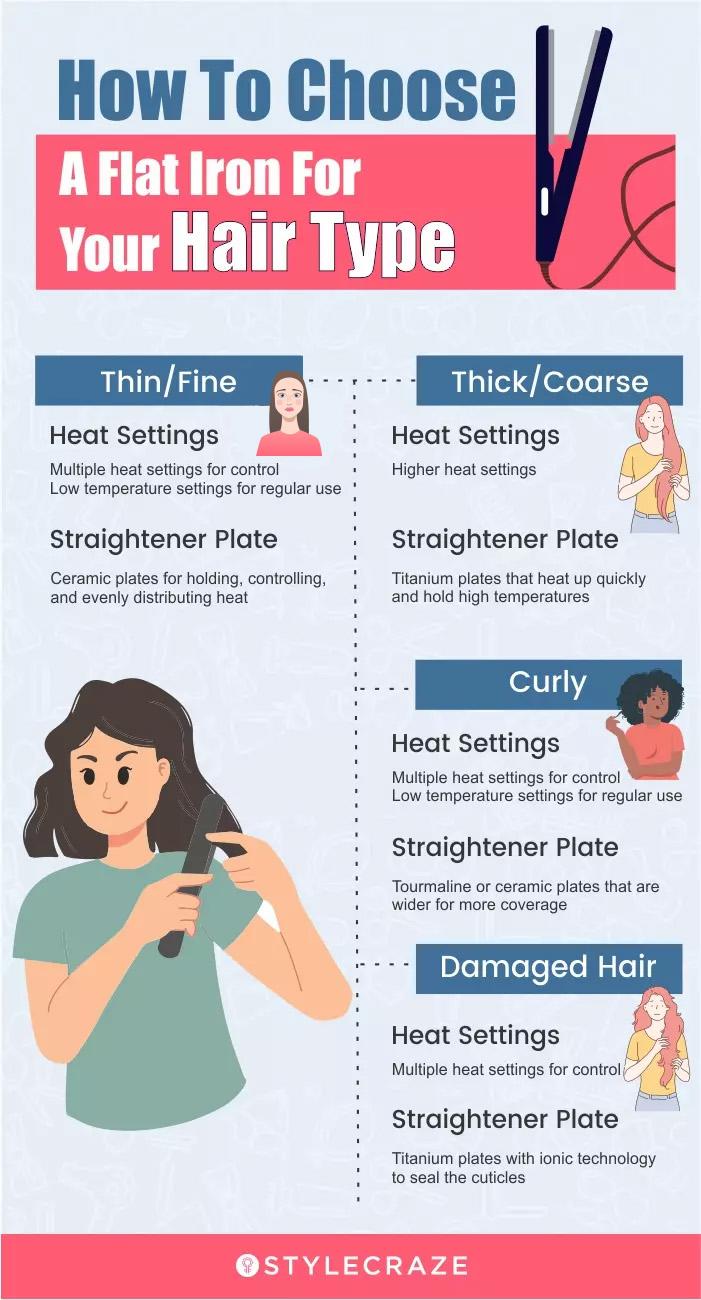 We get it –⁠ curls and waves are beautiful, but sometimes you want to wear your hair straight. Hopefully, this article has taught you exactly how to straighten hair so you can do it easily without any inhibitions. Did you know that the first hair straightener was made in 1909? It is no wonder that flat irons are as effective and advanced now. When trying to achieve a professional hair straightening look, you need to adhere to some basic care and hair styling tips, like cleaning your hair straightening iron regularly and detangling your hair before straightening it. Also, to keep your hair straight for a long time, remember to use a hair protection spray, hair serum, or mousse.
Frequently Asked Questions
Is it better to straighten hair wet or dry?
Always straighten your hair when it is completely dry. Wet hair has weaker bonds and heat styling may damage the strands.
Does flat iron damage hair?
Yes. Any kind of excessive exposure to hair can permanently damage the hair structure.
Is it OK to straighten hair every day?
No. Straightening your hair every day will damage your hair. However, if you must do it every day, ensure you take all protective measures and adopt a hair care routine that takes good care of your hair beauty.
Should I put oil in my hair before flat ironing it?
You may use a few drops of argan hair oil. However, using special heat protectants is a better option than oiling.
Key Takeaways
Clean, dry, detangle hair before straightening. Apply heat protectant to minimize the damage.
Divide the hair into sections and start straightening from the roots to the length from the backside, keeping the temperature medium.
To avoid creases and waves, slowly and steadily straighten the hair.
Finally, finish up with a cool shot setting and style as you please.
Struggling with thick and curly hair? Watch this video to learn simple tips for achieving the sleek, straight, and fabulous hair easily.
The post 5 Ways To Straighten Hair With A Flat Iron Like A Pro if you like this post then share this post with your friends and family